I must apologise to all my readers for not updating my blog for a while. I have taken some extra studying (on top of working/ children etc) and my free time is spent reading and writing essays. This is going to go on for the next 3-4 years, so apart from the summer holidays I won't have much free time.
I do sometimes leave the house to go and experience some culture. Lately I seem to be doing this more and more. Last night I went and watched John Osborne perform his very funny show, John Peel's Shed. John talks about his life through his experience

of listening to the radio and his love of music. He has a really nice easy going delivery, and he's not afraid of sweetly humiliating himself to provide the many laughs that we had. If you can catch him it's a great night out.
He has also written this book, that the tour is based on.
On Valentine's day we went into London and watched
One Man Two Guvnors
. This is a very funny farce, with a bit of audience participation to boot. It was a really enjoyable night. As we came straight from work we needed a quick and cheap bite to eat beforehand. so we tried
Leon
on The Strand and were really impressed by what was on their menu. A really nice quick and

nutritious

dinner.
Oh and if you want to snaffle yourself a free Lisette/ Simplicity pattern, then buy the current issue of
Sew magazine
which has the Traveller dress as its giveaway this month.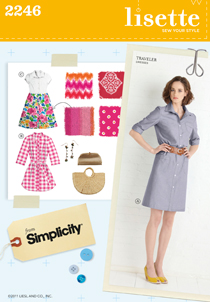 Even if I'm not sewing, I'm still thinking about it! And if you love Liberty then check out these shoes with
Clarks.
There's a whole range of Liberty print shoes.
Finally if you haven't tried it, I thoroughly recommend Pinterest (my page is
here
) Go on, take a peek.