Firstly an apology. I've taken a lot on in the last 9 months, hence the lack of posting. Pretty soon I'll have a bit more time to do some things and with that in mind, the following, new (to me), pattern companies have caught my eye.

In no particular order here are my views:

Sewaholic is a Canadian company run by Tasia. She only has a few patterns so far, but they are already getting great reviews on blogsville. I have nearly finished the Cambie dress, and can heartily recommend the pattern. Photos coming in a week or two!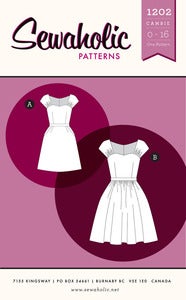 Colette Pattern
s, have been around for 2-3 years (I've mentioned them before) Again well written patterns, great blog with tips and tutorials. Also Sarai has written a
book,
which I have and would recommend.
Salme Sewing Patterns
is a company that I discovered via Craftsy that looks really appealing. It's a British company with lots of contemporary simple tops, dresses and skirts. I love this pleated T-shirt, I'm pretty sure I'll be making it soon, maybe in a navy chiffon fabric. These patterns are downloadable, so a bit more faff, but cheaper and quicker to get.
Grainline Studios
is small with just 3 patterns, but I'm sure more will be coming soon. I've downloaded the Scout Woven Tee (below) for $4.50 which looks like a wardrobe staple pattern. Good reviews around the web as well about it.
Pattern Runway
has an informative blog and is selling downloadable patterns via
Etsy
, here are a selection: I like the style here, again a contemporary look and good feedback.
Here are a few other sites that I still need to look at:
Victory Patterns
Megan Nielson
- who also has maternity sewing patterns.
And a recent blog post by Gertie on
fitting dress patterns
helped me choose more wisely what size Cambie Dress Pattern to cut out. I suggest you take a look! It's about looking at the
finished garment size
rather than the measurement table e.g. if you are 34 bust, 28 waist, 36 hip you need an x which usually leads to a wrong size dress. I've certainly found that, ending up with huge waistbands on skirts etc.
Happy looking and hopefully I'll have a few projects sewn up soon!